TEACH
LESSON PLAN
EDUCATOR RESOURCE: LESSON PLANS
Our Lesson Plans provide a unique experience for educators to teach about the Holocaust effectively and interactively. Lessons are organized by topics that represent major themes associated with the Holocaust in an order that is roughly chronological; the modular design of the Lessons allows for adaption and customization to specific grade levels and subject areas. The integration of rich content in each Lesson helps students construct an authentic and comprehensive portrait of the past as they frame their own thoughts about what they are learning, resulting in a deeper level of interest and inquiry. Each lesson includes:
Step-by-step procedures
Estimated completion time
Resources labeled by icons        direct teachers to the piece of content named in the procedures
Print-ready pages as indicated by  are available as PDFs for download
For more information, questions or concerns please 
contact us
.
PEDAGOGY PRINCIPLES FOR EFFECTIVE HOLOCAUST INSTRUCTION
PEDAGOGICAL PRINCIPLES FOR EFFECTIVE HOLOCAUST INSTRUCTION

December 2018 marks the 25th anniversary of the release of Steven Spielberg's Schindler's List, which depicts the true story of Oskar Schindler—a man who saved the lives of more than 1,200 Jews during the Holocaust. It was Spielberg's experience making this film that inspired him to collect and preserve the testimonies of over 54,000 Holocaust survivors and witnesses, a pursuit which ultimately led to the creation of what is now USC Shoah Foundation.

In honor of Universal Pictures' rerelease of Schindler's List, Echoes & Reflections has created a short, classroom-ready Companion Resource, that will help educators to provide important historical background and context to the film, as well as explore powerful true stories of rescue, survival, and resilience with their students.

Additionally, the following videos, recorded at Yad Vashem, feature Schindler survivors who speak of the impact Oskar Schindler had on their lives.
EVA LAVI TESTIMONY
Eva Lavi was the youngest survivor from Schindler's list. She was two years old when the war began.
NAHUM & GENIA MANOR
Nahum Manor met and fell in love with his wife, Genia, in Schindler's factory. Watch him read a letter at Schindler's gravesite, expressing what he meant to them.
CLASSROOM POSTER SERIES
INSPIRING THE HUMAN STORY
Echoes & Reflections is excited to announce the launch of our new poster series:
Inspiring the Human Story
, for which teachers can request
one
free set (three posters) for their classrooms.
The posters (each 24'x 36'), feature the words and experiences of Holocaust survivor and memoirist
Elie Wiesel
, Holocaust survivor
Kurt Messerschmidt
, and Anne Frank rescuer,
Miep Gies
. Each promotes meaningful conversation and reflection in the classroom and inspires students with powerful human stories of the Holocaust that can continue to guide and inform their steps forward.
To support you in these efforts, we have also compiled several suggested
classroom activities
from teachers in our network that may be of use and interest.
Order your set today at no cost!
Please note: In order to reach the maximum number of teachers with this limited opportunity, we are only able to provide one poster set per teacher. Additionally, we are only able to send poster sets to US addresses
.
We are currently not taking orders at this time. Please check back for future opportunities.



WE ARE FREE, BUT HOW WILL WE LIVE OUR LIVES WITHOUT OUR FAMILIES?
- ANTON MASON, JEWISH SURVIVOR
PREPARING TO TEACH THIS UNIT
Below is information to keep in mind when teaching the content in this unit. This material is intended to help teachers consider the complexities of teaching about survivors and liberators and to deliver accurate and sensitive instruction.
View More +
On May 8, 1945, Nazi Germany's unconditional surrender became official, and Europe was liberated from Nazi rule. The offensives that ultimately defeated the German forces began on the Eastern Front in March 1944 and on the Western Front with D-Day in June 1944; these offensives lasted about one year. As the war was nearing its end, Europe was in complete chaos. Many cities, towns, and villages had been destroyed completely or in part. Multitudes had fled in the face of the fighting, including when possible, those persecuted by the Germans and their partners. Allied troops moving across Europe encountered forced labor camps, concentration camps, extermination camps, and mass graves. While liberation of the Jews was not the primary objective of the Allies, troops did free prisoners, provided food and medical care when possible, and collected evidence for war crimes trials.

The Allies did not anticipate the enormity of the human challenge that liberation would pose. Essentially the Soviet forces liberated camp inmates and after some initial aid, left them on their own. Over time, the Western Allies set up agencies and a system of displaced persons' camps (DP camps) in which liberated prisoners and the multitudes of displaced people—those who had lost their homes and become refugees—were given shelter and were helped.

The personal condition of most Holocaust survivors was appalling after all they had endured. Individuals were in need of physical and emotional rehabilitation. It was only after they became stronger that they began to confront the loss of their families and former lives, and began thinking about how to build new lives. This entailed many decisions about where to go and what to do. A primary concern was to find surviving family members. On their own or with the help of organizations like the Red Cross and the United Nations Relief and Rehabilitation Administration (UNRRA), they embarked on their searches. Along with the occupation authorities, these organizations also sought to aid them on a daily basis and to ensure their physical well-being. A common tendency among survivors was that many married and soon thereafter had children. The remnants of European Jewry—hundreds of thousands of broken men and women who had been uprooted from their homes and their former lives—began the long and difficult process of rehabilitating themselves and rebuilding their lives. The period following liberation is often referred to as "Return to Life" or "Returning to Life."
Close -
The purpose of this unit is to provide students with an understanding of the political, legal, social, and emotional status of the Jewish survivors. This unit also examines the role of the liberators following the defeat of the Nazis at the end of World War II.
Describe the complex emotional ramifications of liberation for Jews at the end of World War II.

Describe the complex emotional ramifications of liberation for the Allied soldiers who liberated the camps following the defeat of the Nazis.

Name the serious difficulties and immediate needs that survivors faced after liberation, including efforts to reunite broken families, provide care to children, and reclaim homes and communities.

Summarize the purpose of displaced persons' camps and what life was like for people living in these camps.

Analyze the choices made by survivors as they reentered society and began to rebuild their lives.

Discuss both the content and the messages in written and visual history testimony.

VIDEO TOOLBOX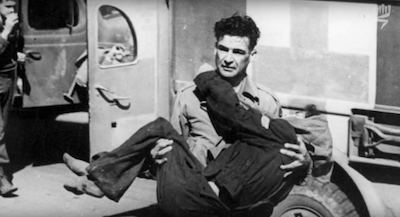 ACADEMIC STANDARDS
The materials in this unit address many Common Core State Standards.
View English/LA »
View History/SS »

TESTIMONY VIDEO GUIDE
View More »

ESTIMATED COMPLETION TIME
60-90 minutes
LESSON PLAN:

Holocaust Survivors' "Return to Life"
| | |
| --- | --- |
| 1 | Begin this lesson with a discussion about how students imagine survivors felt after liberation. The following questions can help guide this discussion: |
How do you imagine survivors felt after learning they were liberated?

What do you imagine some of their fears were?

The phrase "Return to Life" is often used in connection with the period immediately following liberation. What do you think were the first things the survivors needed in order to "Return to Life"?

Do you think the phrase accurately captures the Jewish experience at this time? Explain your thinking.
| | |
| --- | --- |
| 2 | Introduce students to Dennis Urstein, Henry Mikols, and David Abrams and then show their clips of testimony. Follow with a discussion using some or all of the questions below. |

DENNIS URSTEIN
Biographical Profile »

HENRY MIKOLS
Biographical Profile »

DAVID ABRAMS
Biographical Profile »
How does Dennis Urstein describe conditions in Dachau prior to liberation?

What does Dennis remember about the day of liberation and the days immediately following?

Dennis mentions that the American soldiers reminded him of a character from his childhood. What is the significance of this memory?

What conflicting emotions does Dennis explain he felt after learning he was free?

What does Henry Mikols remember of the liberation of Bergen-Belsen?

Henry says that he remembers feeling that maybe he was one of "the chosen ones." Do you think this was a common feeling among survivors? How might a feeling like that carry with it a tremendous responsibility in the minds of survivors?

What other emotions do you think survivors probably experienced after liberation?

Who does David Abrams say he found upon arriving home?

Why do you think David wanted to walk up to his house rather than accept the ride that was offered to him? What do you think the walk symbolized for him?
| | |
| --- | --- |
| 3 | Allow time for students to consider the range of emotions that Jews felt after liberation. Ask them to consider the following questions: |
Why was it impossible for Jews to completely embrace the idea of freedom after liberation?

What obstacles did survivors still have to overcome—physically, emotionally, and psychologically?

What feelings and emotions might those who had been able to escape Nazi-occupied Europe have had to contend with after learning the personal and general extent of the devastation during the Holocaust?
| | |
| --- | --- |
| 4 | Distribute Holocaust 1944 and When It Happened. By way of introduction, tell students that each of these poems was written by a Jewish woman who escaped from Nazi Europe in the late 1930s as a young child. They both spent their childhood in England. In their poems, they examine the questions of guilt and duty with which many survivors struggle. |

STUDENT HANDOUT
Holocaust 1944
View More »

STUDENT HANDOUT
When It Happened
View More »
| | |
| --- | --- |
| 5 | Assign half the class the poem "Holocaust 1944" and the other half "When It Happened." Have students break into pairs, making sure that both partners have been assigned the same poem. |
| | |
| --- | --- |
| 6 | Allow time for students to read and discuss their assigned poem with their partners. Have some or all of the following questions posted on the board or on chart paper to help students organize their discussions: |
Who is the speaker in the poem? To whom is the speaker speaking? What is their relationship to one another?

Describe what you think the speaker's experience might have been.

Describe what you think the "listener's" (the person to whom the speaker is speaking) experience might have been. What specific words or phrases in the poem support your answer?

What emotions is the speaker experiencing? What do you think might be causing these emotions?

How did the progression of stanzas include increasing degrees of the speaker's recognition of what was going on? How do these changing degrees of recognition seem to impact the poet's sense of self?

What is the theme of the poem? Pick out one line or stanza that you believe contributed significantly to the theme of the poem and explain why you selected this particular line or stanza.

What questions are left unanswered for you, as the reader? Why are these questions unanswered?

What do you think the poet's motivation was for writing this poem?
| | |
| --- | --- |
| 7 | After the class discusses the poems in pairs, come back together as a whole group. Read both poems as a class and conduct a whole-group discussion, allowing students to lead the discussion using their reflections and ideas from the pair-work. Encourage students to listen for different interpretations by other groups that read the same poem that they did. |

NOTE
View More »
IWITNESS ACTIVITY
New Beginnings - Journey to America
here »

ESTIMATED COMPLETION TIME
60-90 minutes
LESSON PLAN:

Liberators of the Nazi Camps
| | |
| --- | --- |
| 1 | To prepare students for this lesson, share general background on the liberation of the camps outlined in the corresponding Note. |

NOTE
View More »
| | |
| --- | --- |
| 2 | Introduce students to Howard Cwick, Anton Mason, and Paul Parks; show their clips of testimony; and discuss some or all of the questions below. |

HOWARD CWICK
Biographical Profile »

ANTON MASON
Biographical Profile »

PAUL PARKS
Biographical Profile »
IWITNESS ACTIVITY
Info Quest: Howard Cwick
here »
What does Howard Cwick remember seeing during the liberation of Buchenwald?

How does Howard describe the survivors? Why does he believe the survivors were initially afraid of the soldiers?

Years after liberation, Howard continues to be moved by his experience. What do his emotions tell you about the impact this experience has had on his life?

What food does Anton Mason remember the American soldier giving him? What does Anton say about the value of food in the camp?

How does Anton explain so many survivors dying after being fed by the soldiers?

What does Anton say was the "greatest thing" the soldiers did for the survivors?

How does Anton say he answered Elie Wiesel when Elie said, "We are free"?

Anton states that he remembers his "exact words" to Elie; he also states the exact moment of liberation, 3:30 in the afternoon— are you surprised that details such as these are seared in Anton's memory? Why or why not?

In his testimony, Anton says, "We were happy, we were sad, we were happy that we were free, that we were alive and the Germans had lost. As long as one of us was alive, the Germans lost because they wanted to kill us all, and they couldn't kill us all." What are your feelings listening to Anton explain the feelings Jews had regarding liberation? How does what Anton says fit into what you already know about the "Final Solution"?

Paul Parks tells about speaking to a young girl in Dachau who many years later sees and remembers him "by his eyes." Do you find it surprising that this woman remembered her liberator after so many years? Why or why not?

What do you imagine were some of the thoughts and feelings liberators had after their experiences liberating the camps? What kinds of things do you think they thought about in light of what they had witnessed?

What is the effect of hearing both survivors and liberators talk about liberation? What kind of information do you learn from each?

What kind of information does the survivor provide that would be impossible to learn any other way?
| | |
| --- | --- |
| 3 | Distribute or display A Liberator's Thoughts. Tell students that the author of this written testimony is Harry Herder, Jr., who was nineteen at the time he and other US soldiers liberated Buchenwald, in April 1945. Discuss the selection using the following questions: |

STUDENT HANDOUT
A Liberator's Thoughts
View More »
What kinds of questions is Harry Herder asking himself following his experience at Buchenwald?

Why does Harry reflect on his German heritage?

What choices would Harry have had if in fact he had been a German citizen and in the German army during World War II?

What role does Harry like to believe his upbringing would have played in his choices?

What questions does reading this testimony raise for you?
| | |
| --- | --- |
| 4 | To learn more about the liberators introduced in this lesson, have students, working individually or in pairs, prepare a list of 3–5 questions that they would like to ask Howard Cwick, Anton Mason, or Paul Parks. Students should then be encouraged to use the Biographical Profile and/or IWitness testimony (iwitness.usc.edu) to find the answers to their questions. |

ESTIMATED COMPLETION TIME
60-90 minutes
LESSON PLAN:

Displaced Persons' Camps after the Holocaust
| | |
| --- | --- |
| 1 | Explain to students that a critical issue that arose after liberation was that of the displacement of survivors. To introduce this topic, distribute the Displaced Persons handout and instruct students to read the text and answer the questions at the bottom of the page. [Optional: Have students work on the assignment in pairs or small groups.] |

STUDENT HANDOUT
Displaced Persons
View More »
| | |
| --- | --- |
| 2 | Review the Displaced Persons handout and the questions together and then introduce students to Malka Baran, David Geslewitz, and Ester Fiszgop before showing their clips of testimony. Use the following questions to continue the discussion about displaced persons' camps: |

MALKA BARAN
Biographical Profile »

DANIEL GESLEWITZ
Biographical Profile »

ESTER FISZGOP
Biographical Profile »
What does Malka Baran say she did in the DP camp?

What does Malka say brought her "back to life"?

What are some of Daniel Geslewitz's memories of the DP camp?

How were the examples of life in the DP camp that Daniel describes an indication that the survivors were trying to reestablish themselves and trying to rebuild their lives?

How does Ester Fiszgop describe her experience in an Italian DP camp?

In her testimony, Ester says, "I started under the penalty of death—that was my beginning, and then I finished with the penalty of death and I got five years of retirement." What do you think Ester means by this statement?

Ester says that "no one complained." Why do you think no one complained, despite the horrible conditions?
| | |
| --- | --- |
| 3 | Divide the class into six groups. Distribute copies of the photographs from the displaced persons' camps to each group. Have students study the photographs and share their initial observations with others in their group. Prompt students to think about how the photographs represent the choices that survivors made following liberation (e.g., to go on with their lives despite what they had suffered and lost). |

DISPLACED PERSONS' CAMP: LANDSBERG, GERMANY

DISPLACED PERSONS' CAMP: SALZBURG, AUSTRIA

DISPLACED PERSONS' CAMP: BERGEN-BELSEN

DISPLACED PERSONS' CAMP: GERMANY
| | |
| --- | --- |
| 4 | Assign each group one of the "lenses" below and instruct them to study the photographs again from this particular lens (e.g., If you were a ______ in this camp, what would you notice? How would you explain what you are seeing in the photographs? How might you propose to solve problems that displaced persons might be facing?) |
Lenses
• psychologist
• policymaker
• sociologist
• artist
• doctor
• educator
| | |
| --- | --- |
| 5 | Have each group select a reporter to share the discussion points made regarding each "lens." Encourage students to listen for differences in perspective depending on the lens in which the photographs were viewed. |
| | |
| --- | --- |
| 6 | Conclude this lesson with a discussion about the obstacles that survivors faced following liberation and what they did to rebuild their lives. Include the following questions in this summarizing discussion: |
After all that the survivors went through, what kind of attitudes toward humanity could they have had?

What kind of behaviors could they have developed?

Would survivors, in your opinion, have been justified had they become criminals and thieves? Explain your thinking.

From what you read and heard in the testimonies in this lesson (or unit), what kind of attitude did most survivors adopt? What are the possible reasons for this attitude?
The questions below, used in class or as homework, prompt students to reflect on what they are learning and its meaning in their own lives and in society.
View More +
These queries are excellent for journaling, allowing students to create their own primary source material. Keep in mind, the sensitive and emotional nature of the topics may preclude teacher evaluation. If journaling is used as an assessment tool, assure students that they will not be evaluated negatively for expressing opinions that may be different from others in class or from the teacher's.
| | |
| --- | --- |
| A frequently cited dictum on Holocaust representation is German philosopher and sociologist Theodor Adorno's statement: "…to write poetry after Auschwitz is barbaric…" How do you interpret this statement? What role do you feel poetry plays in chronicling the individual's experience during or after the Holocaust? What is the value of reading and studying Holocaust poetry? What are the possible limitations? | Following the Holocaust, many survivors questioned why they had been spared when so many of their family, friends, and neighbors had perished. Similarly, survivors of other catastrophes (e.g., September 11th) also expressed feelings of guilt for having survived. Why do you think people have this reaction? Do you think such feelings influence how the survivors go on to live their lives? If so, how? |
Close -
Making Connections
The additional activities and projects listed below can be integrated directly into the lessons in this unit or can be used to extend lessons once they have been completed. The topics lend themselves to students' continued study of the Holocaust as well as opportunities for students to make meaningful connections to other people and events, including relevant contemporary issues. These activities may include instructional strategies and techniques and/or address academic standards in addition to those that were identified for the unit.
View More +
| | |
| --- | --- |
| 1 | Visit IWitness (iwitness.usc.edu) for testimonies, resources, and activities to help students learn more about survivors and liberators. |
| | |
| --- | --- |
| 2 | Like personal diaries, photographs, and oral histories, personal letters can provide us with a more complete understanding of historical events, including valuable insight into the wartime experience. As with other primary documents, letters reflect only the viewpoint of a single individual and may contain mistakes. Their value, however, is that they offer readers a glimpse into the wide range of emotions that people felt as historical events were unfolding. |
One such letter was written by staff sergeant Horace Evers. As a member of the US Army, Evers was in Munich, Germany hunting down members of the Nazi high command in 1945. Two days after Adolf Hitler committed suicide, Evers and his unit found themselves in Hitler's private residence. Finding sheets of Hitler's personal stationery with the Nazi swastika embossed over his name, Evers sat down and wrote a letter home to his mother and stepfather about his experience walking through the Dachau concentration camp the day before.
Show or distribute a copy of A Liberator's Letter Home, May 2, 1945 (provided in transcript and original letter form) and discuss the letter using some or all of the questions below.

What do you learn about Horace Evers from his letter?

What does Evers say his unit was doing in Germany in May 1945?

In the letter, Evers describes in vivid detail what he witnessed at the Dachau concentration camp. What were some of the details, and why do you think he included them, especially in a letter to his family?

Do you get a sense from the letter that Evers is struggling with what he saw? If so, what line or lines support your answer?

What is the irony of Evers writing this letter on Hitler's personal stationery?

What is the value of studying personal letters when learning about a historical event? Are personal letters evidence of what happened or should they be studied within the context of other sources? Explain your answer.

In addition to letters, what other written communication can be viewed as primary sources (e.g., email)? Do you think when someone is writing a letter, email, text message, etc., they are aware that they are creating a primary source? If they knew the communication would be read many years later, do you think they would write differently? If so, how might what they write be different?
| | |
| --- | --- |
| 3 | As a whole class, read Simon Wiesenthal's The Sunflower: On the Possibilities and Limits of Forgiveness (Schocken Books, 1997). In the book, a dying Nazi solider brings Wiesenthal, a concentration camp prisoner, to his deathbed and asks forgiveness for crimes against the Jews. Wiesenthal says nothing and leaves the soldier's bedside, but later questions his own response. |
Following the class reading, have students read a sampling of the fifty-three responses to Wiesenthal's question to readers: "What would I have done?" Encourage them to read at least one response that supports forgiveness (e.g., The Dalai Lama, José Hobday), one that does not (e.g., Primo Levi, Herbert Marcuse), and one that is nuanced and provides additional points to consider (e.g., Nechama Tec, Dith Pan), and then craft their own written argument on the topic. The piece of writing should introduce the situation/question, summarize opposing responses, and then state and support their own position with logical reasoning that demonstrates an understanding of the topic.
| | |
| --- | --- |
| 4 | Contact the VFW's Veterans in the Classroom community outreach initiative. Through this program, a local VFW member is able to help make history "come alive," sharing personal experiences, appropriate memorabilia, uniforms, photographs, and other relevant material. US forces liberated the Buchenwald concentration camp, as well as Dachau, Mauthausen, Flossenburg, and Dora-Mittelbau; check with your local VFW to see if a liberator is available to speak to students. Many Holocaust museums and resource centers also have a Speakers' Bureau of local liberators available to visit the classroom. As a class, generate a list of relevant questions to ask the liberator in advance of his or her visit. |
| | |
| --- | --- |
| 5 | The United Nations High Commissioner for Refugees (UNHCR) provides protection, shelter, emergency food, water, medical care, and other life-saving assistance to millions of people worldwide, who have been forced to flee their homes due to war and persecution. When possible, UNHCR helps refugees and other displaced people return to their homes voluntarily, safely, and with dignity. Have students research the UNHCR and share their findings in a presentation format of their choice (oral, written, multimedia). The following questions can help guide their research: |
When and why was the UNHCR created?

On what continents has UNHCR worked over the years?

What does UNHCR do to assist refugees and internally displaced persons?

What challenges does the UNHCR face as it works?

In what countries is the UNHCR currently operating and why?

Identify one country where the UNHCR is currently operating. Explain the situation and how UNHCR is assisting.
Close -
KEY WORDS
Allies
Auschwitz-Birkenau

Bergen-Belsen
Buchenwald

concentration camp
Dachau

death march
displaced persons' camp (DP camp)
extermination camp
"Final Solution"
Holocaust
liberation
Majdanek

refugee
"Return to Life"
survivor
Zyklon B
TITLE
PHOTO
LEFT COL
RIGHT COL